To search the Knowledge Base: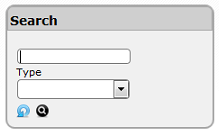 Select a relevant item type from the drop-down list.

Navigate to the Search box on the Self Help page.

Use the Search box to enter a text-based search. For details, see Full Text Search.

or

Select an Item Type, to display Classification options.

Click to display all Articles created for this Item Type.

To refine the search, select a relevant Classification.

To clear the fields click

Click to search the Knowledge BaseThe Search Results are displayed.

Click the Title to expand the Article.