5.1

Using the Console Taskbar

The taskbar on the left provides access to the Management Console tasks. If the taskbar is not visible, click the Tasks button.

Figure 5-1 The Management Console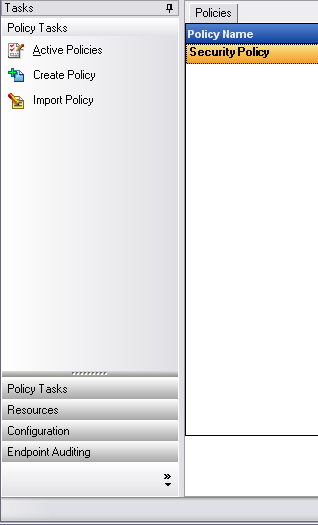 The functions available in the taskbar are described in the following sections:
5.1.1

Policy Tasks

The primary function of the Management Console is the creation and dissemination of security policies. The Policy Tasks guide the administrator through creating and editing security policies that are used by the Endpoint Security Client to apply centrally managed security to each endpoint.

The Policy Tasks include the following:

Clicking any of the policy tasks minimizes the taskbar. Click the Tasks button left side of the Management Console to display it again.
5.1.2

Resources

The following resources are available to help you:
Contact Support: Launches a browser to display the Novell Contacts and Offices page.

Online Technical Help: Launches a browser to display the Novell Training and Support page.

Management Console Help: Launches Help.
5.1.4

Endpoint Auditing

Endpoint Auditing gives you access to Endpoint Security Management Reporting and Alerting.

Alerts monitoring ensures that any attempts to compromise corporate security policies are reported in the Management Console. This allows the ZENworks Endpoint Security Management administrator to know of potential problems and take any appropriate remedial actions. The Alerts dashboard is completely configurable, granting total control over when and how frequently alerts are triggered. See Section 5.4, Using Alerts Monitoring for details.

Reporting is critical in assessing and implementing strong security policies. Reports can be accessed through the Management Console by clicking Reporting. The endpoint security information gathered and reported back is also completely configurable, and can be gathered by domain, group, or individual user. See Section 5.5, Using Reports for details.