Group rights are the same as user rights User Rights Tab, just applied to the entire group.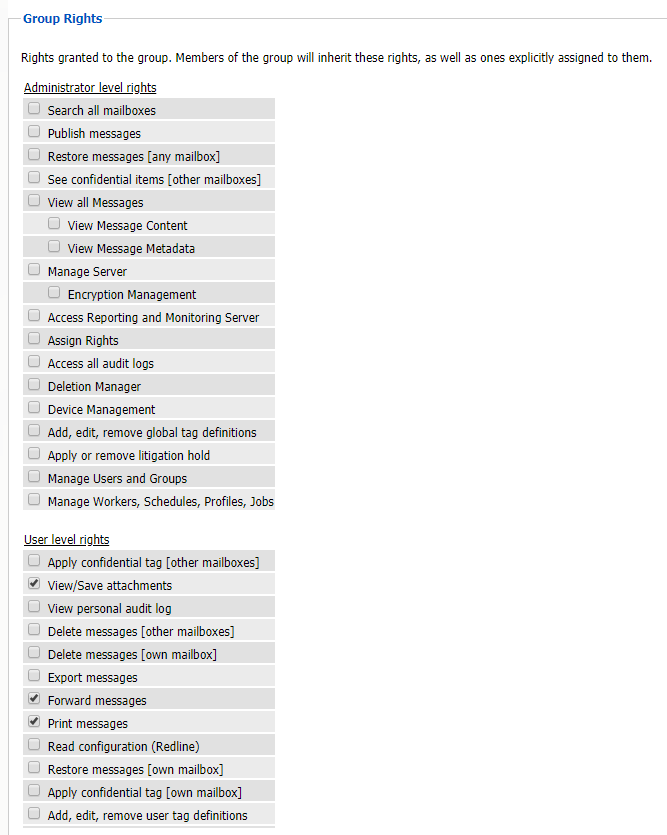 In this tab, you define all the rights that will be common to all members of the group. These rights are ADDITIVE and will be in ADDITION to the rights you have explicitly given to the individual user.
For this reason, if you want to manage users as a group, you would typically not assign any individual rights. Rather, you would assign rights to their group. These rights have all the same meanings and functions as the user rights.
To log into and manage or monitor Workers, a User or Group must have the manage workers, Schedules, Profiles, Jobs right. To set or work with the Deletion Manager, the user must likewise have the Deletion Manager right, or they will not be able to modify those settings. There are, however, certain rights which implicitly grant other rights. For example, granting a Group the Restore Messages [Any Mailbox] right automatically grants the Restore Messages [Own Mailbox] right.
TIPS
Typically, you will not want to grant GroupWise Reporting and Monitoring rights to a group, but in a situation where you have more than one GroupWise Reporting and Monitoring control center and you want to see which one is monitoring, group-level GroupWise Reporting and Monitoring rights would be appropriate.
Typically, you will want to make the default group's rights rather restrictive, granting very limited access by default. If you wanted a user to have more rights, you would simply assign them to another group or you could assign additional explicit rights.
By using groups, you can have groups of individuals with rights to totally different sets of archives. Other than their own mailboxes, users only get rights to the mailboxes that you grant to them.