After completing the instructions in the preceding sections, you can create a Blackberry Job.
To begin creating a Bloomberg Job, open Retain Server Manager > Data Collection > Jobs.

Click Bloomberg > Add Job.

Use the information in the sections that follow to configure each tab.

Make sure that you save your changes before leaving the dialogs.
Core Settings Tab (Bloomberg Job)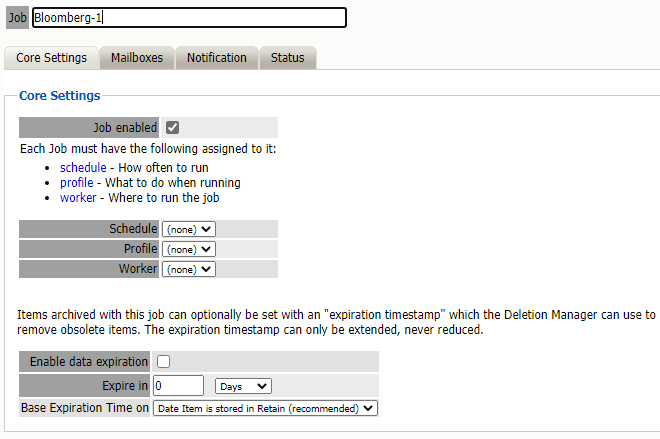 A job must be enabled or it will not run.
Select the following from the drop-down lists presented:
If you want Retain to remove data from your message system as it archives you may use Enable data expiration, but it is recommended to remove items with your message system administration console which is better suited to the task.
Mailboxes Tab (Bloomberg Job)

Select the server to archive from.
Alternatively, you may select to include or exclude individual users from the archive job.
Notification Tab (Bloomberg Job)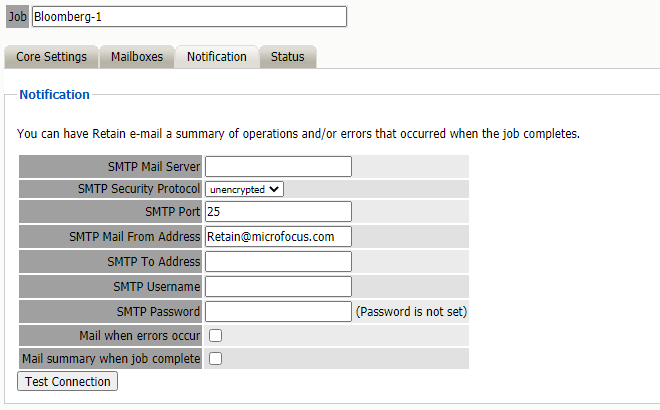 To send status messages about the job:
Enter the mail server connection data.

Enter the desired To: email address.

Enable "Mail when errors occur", if desired.

Enable "Mail summary when job is complete", if desired.
After entering the data use the "Test Connection" button to send a test message from Retain.
Status Tab (Bloomberg Job)

The Status tab will show the current status of the job.
While a job is running an abort button displays. See Stopping a Job in the Retain 4.9.2: Configuration and Administration.