This report summarizes the archive history for selected users, including pertinent information for each mailbox over the previous 3 months.
While the report cannot be sorted after it is generated, it may be sorted at generation through the 'Sort Rows by Column' feature. The columns may be sorted by either descending or ascending order. Select 'Generate' to create the report.
Table 4-15 Configuring an Archive Summary by User Report
For help with setting standard report parameters, such as email delivery and schedule settings, see Defining, Scheduling, and Managing Retain Reports.

Choose which column you want the report to be sorted by:

User Name

Messages Processed

Messages Archived

Disk Space Used

Retention Flag

Purge Flag

Last Archive Flag

Specify whether you want it sorted in ascending or descending order.

Use this to limit the size of the report.

Choose either All Users, or choose Select Users to specify a subset from the list that displays.
The report displays the total information for every mailbox selected, including: User name, the time stamps and their advanced dates, and the message store for the associated user.
Figure 4-7 A Sample Archive Summary by User Report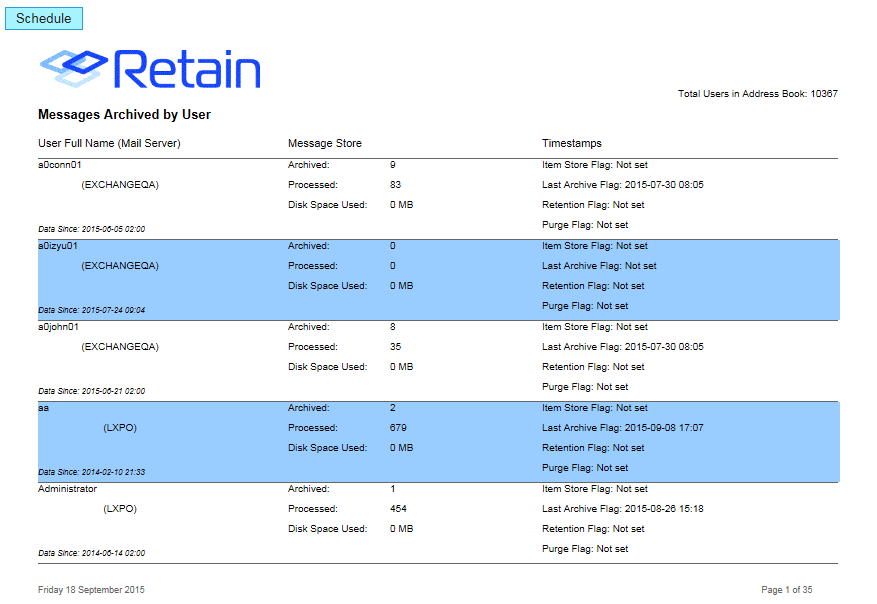 Administrators often use this report to monitor disk space usage and messages processed and stored on a user-by-user basis.